Comedian Hypnotist Michael Oddo
THEATRES - FAIRS - CASINOS - CRUISE SHIPS
CORPORATE - UNIVERSITY - COLLEGE - HIGH SCHOOL
CAMPUS ACTIVITIES - FFA - AFTER PROM - ASSEMBLIES
AND MUCH, MUCH MORE...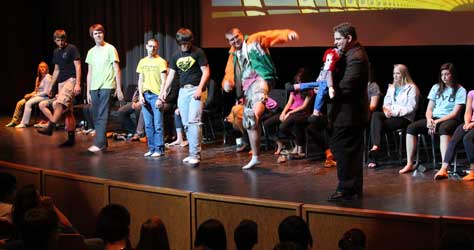 Transform your event into a can't-miss sensation and the most talked about subject for weeks to come with Comedian Michael Oddo's Interactive Comedy Hypnosis Show. You'll watch your friends, family, and coworkers rock-out on air guitars, belly dance to Arabian music, and furiously compete in a cow milking contest; all while under Michael's power of suggestion. It's fast-paced silliness designed to get you rolling--sometimes literally.
Best of all, Michael's brand of clean comedy ensures his show is appropriate for all audiences--no need to worry about offensive language or lewd innuendo. Instead, he gets the audience howling using music, sound effects, and innocent tomfoolery.
SEE THE SHOW
or
BE THE SHOW!!!